Campaign for Healthier Solutions
Big Campaign News!

Campaign for Healthier Solutions representatives from across the U.S. converged in Virginia in June, to confront Dollar Tree executives at their annual Shareholder Meeting, and demand safe, non-toxic products and food.

Our campaign action was a great success! Inside the shareholder meeting, CHS Coordinator Jose Bravo pressed Dollar Tree's CEO Bob Sasser on the hazardous chemicals we found in their products. Outside, CHS leaders and Dollar Tree shareholders held a press conference with giant 'silly straws' and costume jewelry, representing two of the many dollar store products we tested, that measured high levels of toxic chemicals. At Dollar Tree's corporate headquarters, we delivered our campaign demands petition, signed by 150,000 people.



Here's the big news: at the shareholder meeting, Sasser announced that the company had alerted suppliers to reduce and eliminate a list of 17 highly-toxic priority chemicals by 2020! This is a significant first step for this company, and a testament to the continued pressure from CHS leaders and supporters.

Follow us to get the latest updates and opportunities to push for safer products, and act today to support our work for safe products and food for ALL people.
Campaign Background
All families deserve safe and healthy products, and all communities deserve business partners that will prioritize the health of their customers.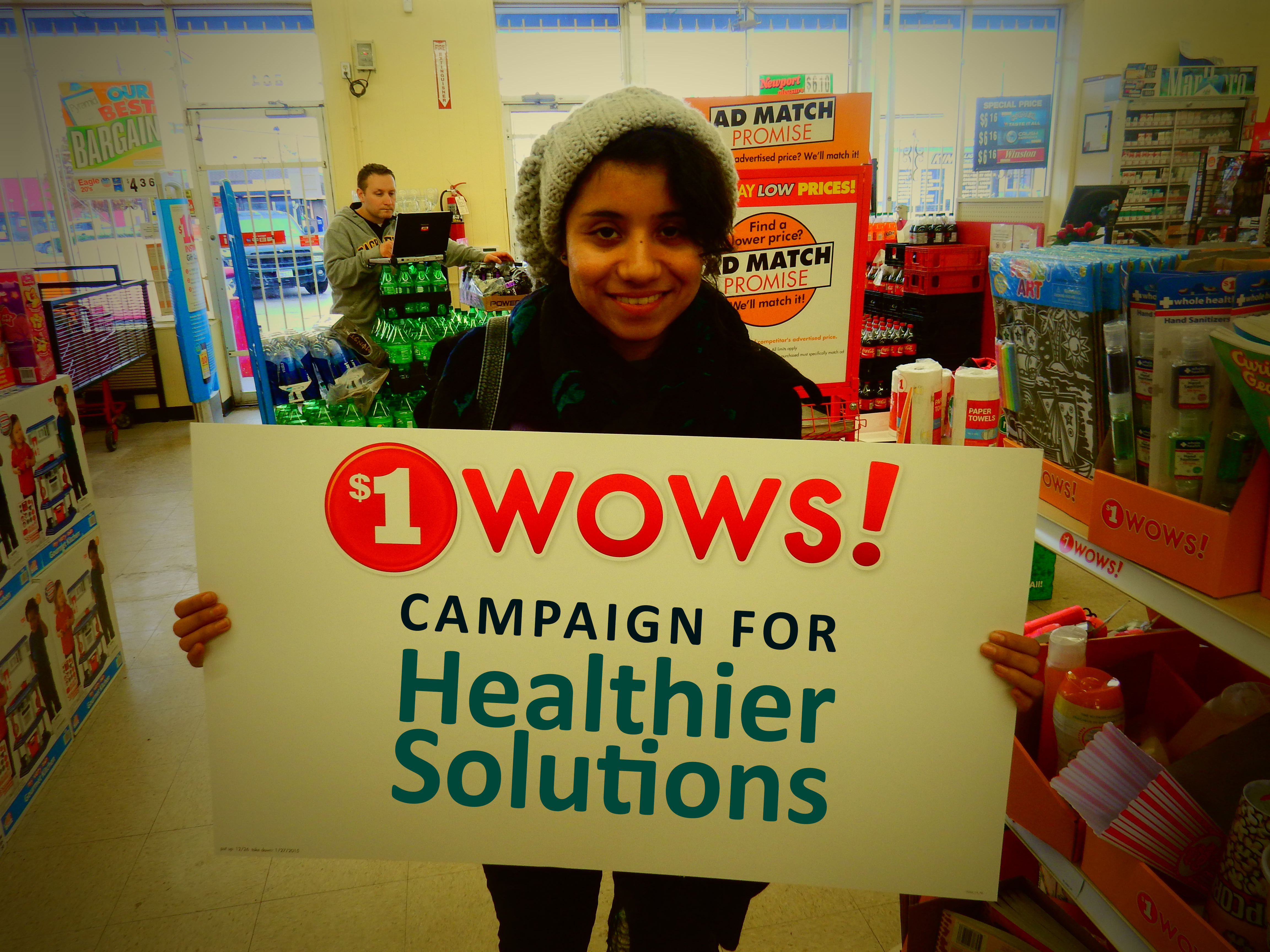 Rates of diseases and health conditions linked to chemical exposures have risen sharply across the United States over the past several decades, especially for children. Many manufacturing and retail businesses have responded to growing scientific evidence that dozens of chemicals used in everyday consumer products are harmful to health and the environment, and to consumer demand for safer products, by committing to identify and replace harmful chemicals in the products they make and sell.
Although some discount retailers (commonly called "dollar stores") have taken specific actions to remove a few harmful products from their shelves or test some of their products, none of the major dollar store chains have yet adopted comprehensive chemical disclosure or management policies. It's time for that to change.
Over 100 diverse environmental justice, medical, public health, community, women's and other organizations have launched the Campaign Healthier Solutions to challenge discount retailers including Family Dollar, Dollar Tree, Dollar General, and 99 Cents Only to follow Walmart, Target, Staples, and other retailers by adopting corporate policies to identify and remove harmful chemicals from their stores.
On these pages, you can:
Read the Report: A Day Late And A Dollar Short