Dollar General takes important new steps towards chemical safety, but must do more to protect customers' health
Largest discount retailer commits to join the Chemical Footprint Project and phase out 11 more chemicals of concern from select products by 2023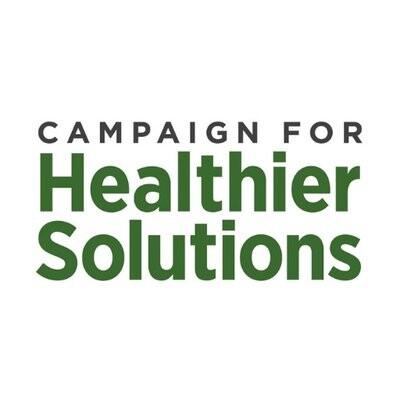 FOR IMMEDIATE RELEASE
Press Contact: Deidre Nelms, dnelms@comingcleaninc.org, (802) 251-0203 ext. 711
Responding to pressure by investors and community-based organizations, Dollar General committed to become a signatory of and responder to the Chemical Footprint Project by the end of 2022, and expanded its Restricted Substance List (RSL) to 19 chemicals.
Representatives from the Campaign for Healthier Solutions were present at the company's May 25th annual shareholder meeting in Goodlettsville, Tennessee, where they urged Dollar General to eliminate more harmful substances from its products, and expand its chemical policy to apply to more products in more categories, including food and beverages, as well as non-private label products.
"We congratulate Dollar General for hearing our demands and taking these important steps," said José Bravo, National Coordinator of the Campaign for Healthier Solutions. "But the company hasn't yet acted to restrict toxic chemicals from the food packaging, children's products, or cookware that our families buy. Its chemical policy could be much stronger. "
A product testing report by the Campaign for Healthier Solutions and Ecology Center released earlier this year found several products sold at Dollar General to contain chemicals of concern, including PVC in a children's toy, PFAS and BPA in non-stick cookware, and PVC in food can linings.
"We urge Dollar General to address these chemicals found in the report," said Bravo.
Dollar General's updated Chemical Policy applies only to its private brand formulated products in Home Cleaning, Beauty, Personal Care, Hardware and Automotive departments. By 2023, the company committed to remove the following added chemicals from its private-label products: 1-bromopropane; asbestos; 1,4-dioxane; Cyclic Aliphatic Bromides Cluster of flame retardants (HBCD); octamethylcyclotetrasiloxane (D4); lead and its compounds; cadmium and its compounds; bisphenol A (BPA); diethyl phthalate (DEP); dibutyl phthalate (DBP); and tetrachloroethylene (TCE).
Dollar General has agreed to respond to a survey by the Chemical Footprint Project to measure its chemicals management and hazard reduction programs against best practice. Signatories of the Chemical Footprint Project also agree to encourage companies in their sphere of influence to participate in the project.
The Presbyterian Church (U.S.) and Trinity Health, who own shares in Dollar General and are members of the Investor Environmental Health Network (IEHN), withdrew their shareholder resolution after the company announced these commitments.
# # #
The Campaign for Healthier Solutions is a project of the Environmental Justice Health Alliance for Chemical Policy Reform (EJHA) and Coming Clean, that includes environmental justice, public health and community organizations. Launched in 2015, CHS works with discount retailers to adopt responsible hazardous chemical policies. Their 2015 report "A Day Late and a Dollar Short" found that one half of major US dollar stores are located within three miles of a facility that uses or stores hazardous chemicals, disproportionately harming low-income communities and communities of color. Learn more at www.nontoxicdollarstores.org and follow on Twitter @nontoxdlrstores.