April 17, 2019

Release: 99 Cents Only Executives Agree to Meet and Discuss Customer's Concerns About Toxic Chemicals in Easter Products
Children and Parents Unable to Tell the Difference Between Hazardous and Safe Products Discovered in 'Dollar Store Easter Egg Activity'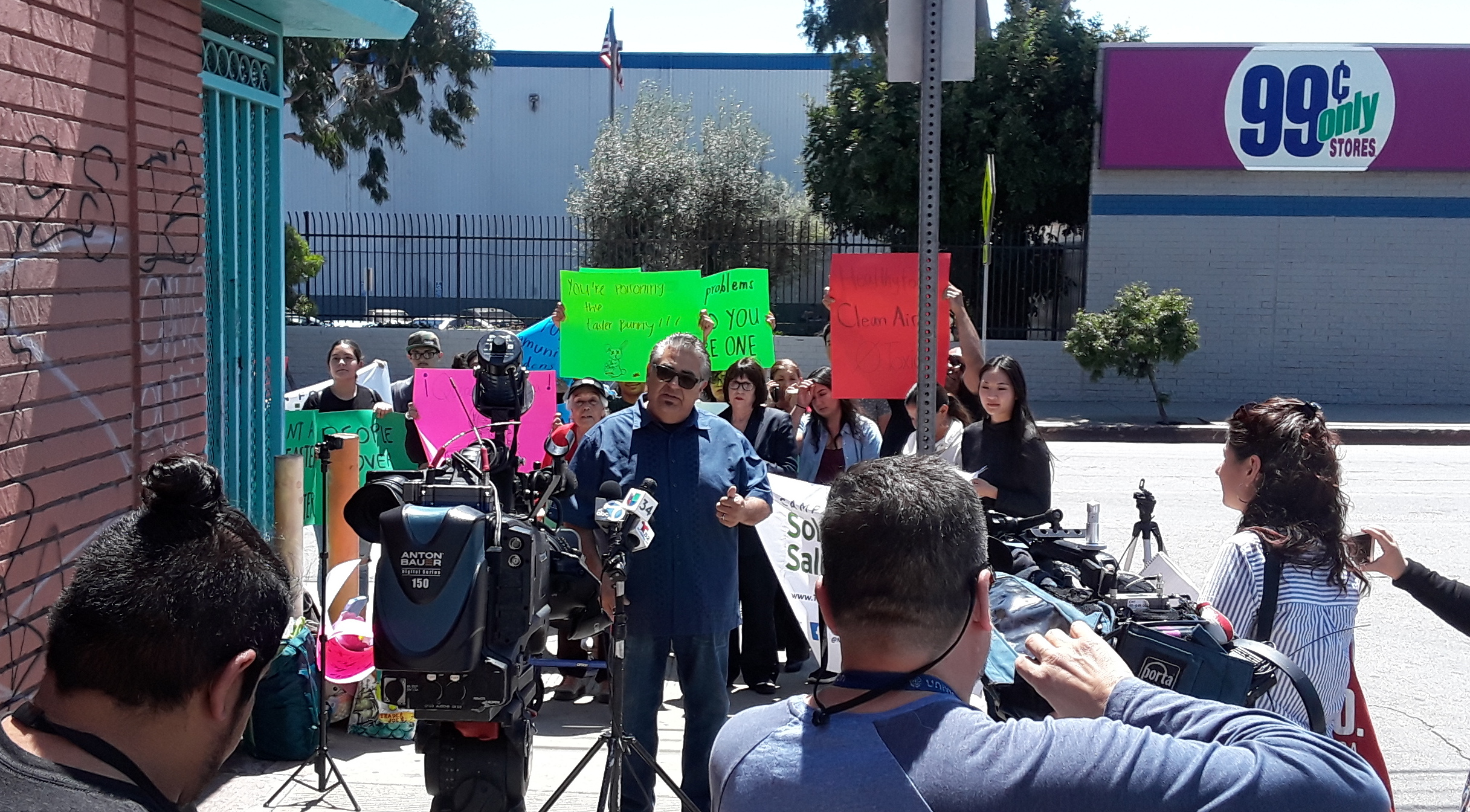 Los Angeles, CA — As shoppers rush to dollar stores for last-minute Easter Holiday supplies, toys, and candy, allied organizations with the environmental justice group, Campaign for Healthier Solutions, held their own 'Toxic Easter Egg Activity' outside the headquarters of LA-based dollar store chain, 99 Cents Only Stores. Children searched for products purchased from 99 Cents Only Stores that didn't contain toxic chemicals—but had no way to know if each product was safe because the chain has no public toxic chemical policies or protections for customers and their children. Executives from 99 Cents Only Stores agreed to meet with the campaign and discuss customer's concerns but did not commit to any action to protect them from toxic chemicals.
"This Easter, children should be looking for toys and treats—not looking out for toxic chemicals linked to learning and developmental disabilities," said Jose Bravo, National Coordinator of the Campaign for Healthier Solutions. "From children's toys to basic food staples, it seems that every time we test products purchased from 99 Cents Only Stores we find toxic chemicals at levels which might impact our children; when will they do something about this problem?"
In the past, independent laboratory testing of products purchased at 99 Cents Only Stores discovered items such as costume jewelry and toy cars containing high levels of heavy metals, which are linked to learning and developmental disabilities, food staples like microwave popcorn containing per/polyfluoroalkyl substances (PFAS), and bisphenol-A (BPA) in canned food. Despite these findings, the dollar store chain has yet to announce any public chemicals management policies, as the campaign is requesting.
"Every child deserves safe and healthy food, and every community deserves business partners who prioritize our health over company profits," said Janet Valenzuela, a local resident with East Yard Communities for Environmental Justice. "We want 99 Cents Only Stores to be part of our community but, first, we need them to take our health seriously and do something about the toxic chemicals they're bringing into our neighborhoods and, eventually, into our bodies."
"The Center for Environmental Health tested a variety of products purchased at 99 Cents Only Stores, and found BPA in canned food, PFAS in microwave popcorn, and glyphosate in cereals," said Wynnie Young, Program Coordinator with the Center for Environmental Health (CEH). "BPA is known to cause birth defects and all of these chemicals have been linked to cancers and other serious health problems. These toxic chemicals are especially dangerous to children because their bodies are developing. We want 99 Cents Only Stores to contact their suppliers and demand that these toxic chemicals be removed from their products immediately."
"We are deeply concerned about toxic chemicals in products sold by 99 Cents Only Stores and other dollar stores," said Lizette Hernandez from Physicians for Social Responsibility Los Angeles. "Many of these stores serve communities of color and low-income people who already face higher levels of environmental exposure. We need retailers like 99 Cents Only Stores to show some responsibility for the health of their customers and communities instead of piling on with more toxic chemicals and their related health impacts."
People of color and low-income communities are especially vulnerable to harm from toxic chemicals found in dollar store items as they disproportionately rely on dollar stores for food and household products, and studies show they are often already exposed to environmental chemical hazards at higher levels.
"Every year, I hear about parents rushing to dollar stores to pick up back-to-school supplies, or teachers bringing in large hauls of arts and crafts materials from 99 Cents Only Stores—and it makes me worried about our children," said Robina Suwol with California Safe Schools. We need places to get low-cost supplies for our children—but not at any cost—and we especially don't want to bring products laden with toxic chemicals linked to learning and developmental disabilities into the classroom. That's too high of a cost for anyone to pay."
The campaign was supported by a petition signed by over 156,000 people urging 99 Cents Only to take formal action on toxic chemicals in its products, and they noted that the chain is falling behind other retailers in addressing this issue. Major retailers are taking substantial action to protect their customers from chemical hazards, but dollar stores as a segment are lagging far behind other retailers who serve more affluent customers.
"We came here to 99 Cents Only Stores' headquarters today to say they need to do more to protect our families—their customers—and workers from toxic chemicals, said Elizabeth Martinez, a farmworker organizer in Central California with Lideres Campesinas, a woman-led farmworker collaborative. "Many customers of 99 Cents Only Stores live in areas where healthy food is scarce and they have low income and can't afford to shop elsewhere, so these dollar stores should do what's right to protect our health."
Following the event, the campaign plans to continue educating shoppers about hazardous chemicals in products and pressuring 99 Cents Only Stores until they address the issues of chemicals in their products and fresh and healthy foods. The activists are asking for a meeting with Jack Sinclair, CEO of 99 Cents Only Stores, and urging the discount retailer to adopt a public corporate chemicals policy to protect customers, children, workers, and vulnerable populations.
Available for Comment
Eric Whalen; Communications Coordinator, Coming Clean; (971) 998-8786, ericwhalen@comingcleaninc.org.