April 3, 2020

Blog: The Petrochemical Industry Threatens Public Health Under the Cover of COVID-19

By Jim Vallette

Jim Vallette is president of Material Research L3C, a company that builds eco-friendly homes and collaborates with organizations across the globe on a wide range of data-driven, environmental justice projects.
---
In times of crisis such as the current pandemic, there is often a surge in acts of human kindness. Then there are those who turn the crisis into opportunity – for themselves. Some stockpile hand sanitizers and other essentials until their prices jump. Some televangelists such as convicted fraudster Jim Bakker sell online products with unfounded claims that they "can kill any of these known viruses." Some politicians sell stocks after hearing intelligence reports on the growing threat, while telling the public not to worry about that threat.
But the fossil fuels and chemical industries have pulled off a much greater heist by obtaining a presidential hall pass -- namely, the end of environmental oversight over their operations, allowing companies to release air and water pollutants without consequence. That's right: the end of environmental oversight, so even more toxic pollutants can be released without the government paying attention on behalf of the people.
Industry associations like the American Chemistry Council and American Petroleum Institute moved swiftly to capitalize on the coronavirus pandemic by claiming to be essential to public health. For instance Ned Monroe, CEO of the Vinyl Institute, wrote on a company blog in mid-March: "As public officials consider whether it is necessary to shut down non-essential manufacturing, it is imperative that we remind decision makers that PVC [polyvinyl chloride plastic] manufacturing and our supply chain are critical in combating the spread of infection, diseases, and protecting public health."
In response to this and other appeals from industry leaders, on March 19, the president declared a wide range of industries to be "essential to continued critical infrastructure viability." According to the directive, these include petroleum and natural gas producers, chemical manufacturers, chlor-alkali plants, and manufacturers of single-use plastics -- not all of which are essential during this crisis, and many of which have a troubling track record of polluting.
That presidential pass was the first of two gut-punches to our collective environmental and public health.
The other came on March 26, when the U.S. Environmental Protection Agency announced in a memorandum it would no longer require companies in the U.S. to follow most of its laws.
The agency memo states that the "EPA does not expect to seek penalties for violations of routine compliance monitoring, integrity testing, sampling, laboratory analysis, training, and reporting or certification obligations in situations where the EPA agrees that COVID-19 was the cause of the noncompliance." And further, "[the] EPA does not plan to ask facilities to 'catch-up,'" on these obligations after the crisis is over. The Trump administration also rewarded industry friends by making these terms retroactive to March 13.
In this one memo, the EPA welcomes the polluting industries to release poisons into the air and water in the midst of the biggest public health crisis since the influenza pandemic of 1918. Many now-exempt-from-oversight plants are in potential COVID-19 hotspots. Perhaps of greatest immediate concern is the string of petrochemical and plastics plants along the Mississippi River, between Baton Rouge and New Orleans, Louisiana.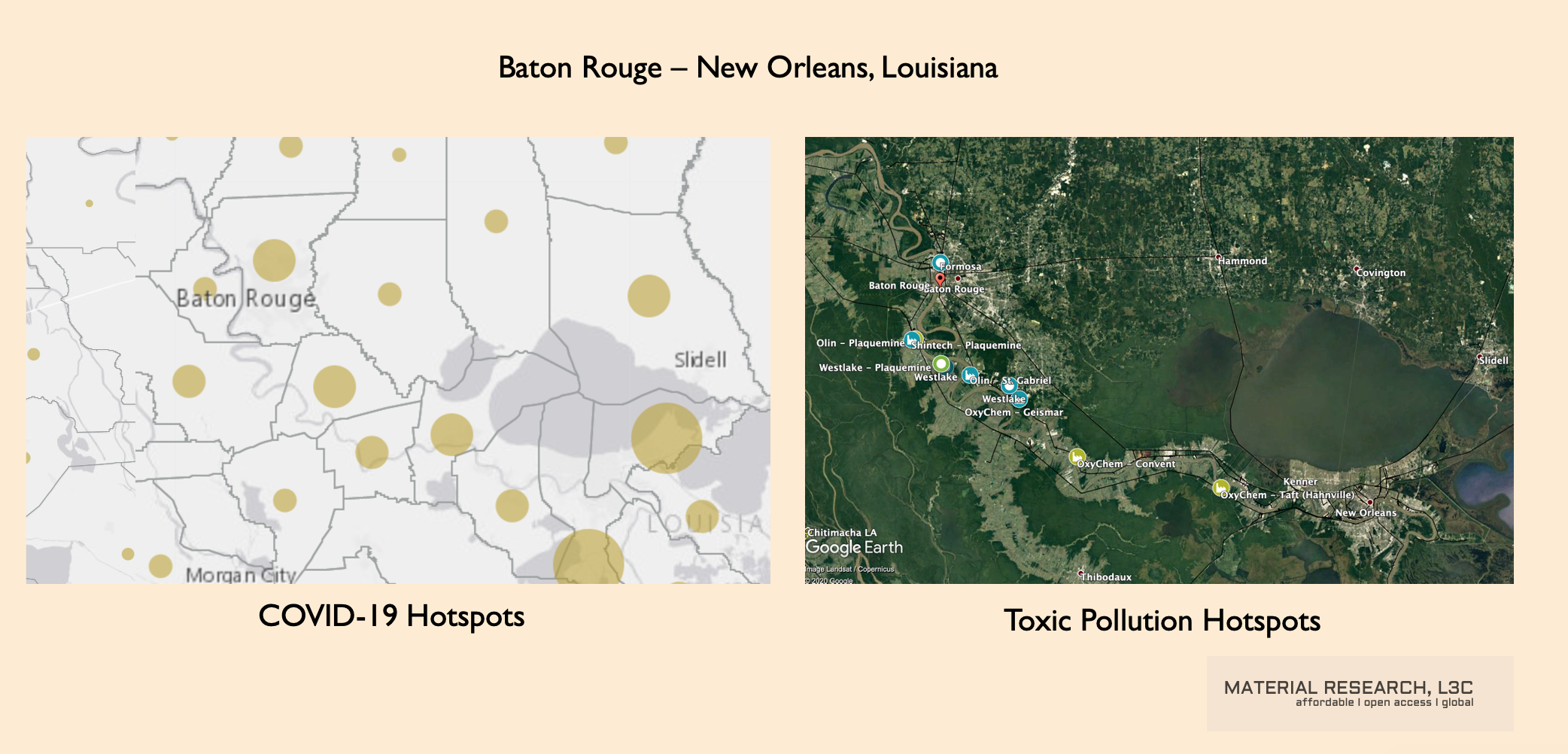 Public health scientists warn about potential interactions between air pollution and respiratory virus infections, especially for people with preexisting pulmonary conditions.
"EPA's decision to weaken pollution enforcement could make a bad situation much worse at a time when the demand for medical care is already stressed," Kathy Fallon Lambert of the T.H. Chan School of Public Health at Harvard University, told Scientific American this week. "It's an unconscionable triple whammy that could lead to increased demands for medical care, increased respiratory illness from air pollution and increased COVID-19 cases."
"The EPA's actions are reprehensible," said Gretchen Goldman, Research Director at the Union of Concerned Scientists' Center for Science and Democracy. "The agency should be working to address the disproportionate harm faced by communities near polluting facilities, not giving industries a free pass to worsen community impacts.."
Even in the best of times, chemical plants release large volumes of air pollutants like ethylene dichloride and isocyanates. These cause asthma and impair the respiratory systems of plant workers and people living downwind, further increasing their vulnerability to the novel coronavirus.
Sheltering in place, sadly, is not a new concept for people around the country living close to chemical plants. "Approximately 124 million people across the United States, almost 40% of the US population, live within three miles of high-risk chemical facilities," according to a 2018 report by Environmental Justice Health Alliance for Chemical Policy, Coming Clean, and the Campaign for Healthier Solutions. "Their health, well-being, and even cultures are endangered by the threat of a catastrophic explosion or release, and other determinants of health, including lack of access to healthy foods, and daily exposure to toxic chemicals released into the air by industrial facilities, from everyday household products, and from building materials used to construct their homes."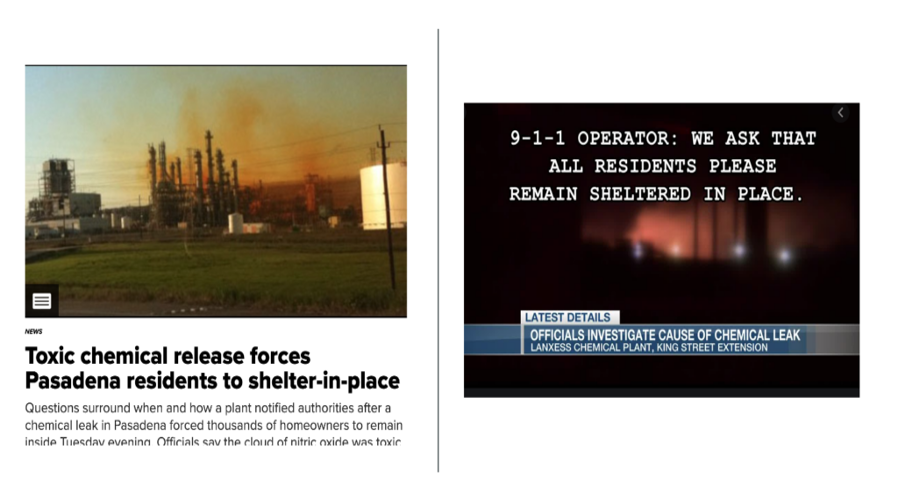 Explosions, fires and other incidents at petrochemical plants could increase as staff runs short and oversight vanishes. On March 28, a worker died at Westlake Chemical in Geismar, Louisiana. This plant has a long history of egregious violations of occupational and environmental laws. While this particular occupational incident is not tied to the EPA dropping enforcement of environmental guidelines, it shows how the continued operation of poorly-run chemical and plastics factories could stretch first responders thin at exactly the wrong time.
"As of March 26 under the order from the White House the US EPA released an 'Enforcement Discretion Policy' in essence throwing public safety and chemical security out the door," said Jose T. Bravo, Executive Director of the Just Transition Alliance. "Workers at the frontline of chemical manufacturing and communities at the Fenceline of exposure are at dire risk because of this callous move. We are living in a time where this blatant approach to dismantle safety measures is unconscionable and borderline criminal."
Already, at least 10 workers in four chemical plants in the Baton Rouge, Louisiana area, a global center of the petrochemical industry, have tested positive for the new coronavirus. These include four contractors at the nearby Dow plant in Plaquemine, four workers at the BASF plant in Geismar and at least one person who works at Denka's chemical factory in LaPlace. A contractor at the Monsanto pesticides plant in Luling died of respiratory illness after having tested positive for the virus.
The presidential guidelines say "essential industries" should be prioritized "related to continuity of operations and incident response." In other words, the deployment of first responders will be prioritized for these industries, while there is a growing need for these brave people to be elsewhere. Where will people who are sheltering in place from the virus go when they have to escape a chemical release? How much more severe will COVID-19 be for people living next to polluting smokestacks, who already suffer respiratory health impacts from chemical exposures?
Some industrial activities truly are essential for the fight against the new coronavirus. This does not mean the petrochemical industry as a whole is essential, or that it should have effectively no oversight. It is hard to find the public health benefit in the production of plastic resins that are exported to China to make toys for example.
There is an urgent need to pinpoint what parts of the industry – plant-by-plant, unit-by-unit — are truly essential to public health at this time, verify that what they are producing is essential, and work with Fenceline communities and workers to ensure that petrochemical plant pollution does not amplify local health crises.
It is far past time for the chemical industry -- the non-essential parts -- to hunker down like the rest of us.